//LAB-LOB ORGANIZES A JOURNEY OF ARCHITECTURE AND CINEMA IN CALIFORNIA

The cinema is a way of living architecture and architecture is a way to enjoy cinema. For this reason, Marta González and Lucía Lucas have been preparing this wonderful trip for a few months, through which we will learn about modern californian architecture through a selection of films. Among these films are great films such as Blade Runner, The Great Lebowski, Pulp Fiction and Mulholland Drive among many others. Regarding the architecture that we will see (and live) there are names of great masters such as Frank Lloyd Wright (House Ennis, Blade Runner), John Lautner (Sheats Goldstein Residence, The Great Lebowsky), Richard Neutra (Lovell House, LA Confidential) .
The registration period is open and if you are interested you can sign up here.
————————————————————————————————————————————————-
//LAB-LOB PARTICIPATES IN HINCHABLES EXHIBITION. LA GALERÍA DE NUEVOS MINISTERIOS /NOVEMBER 14, 2017//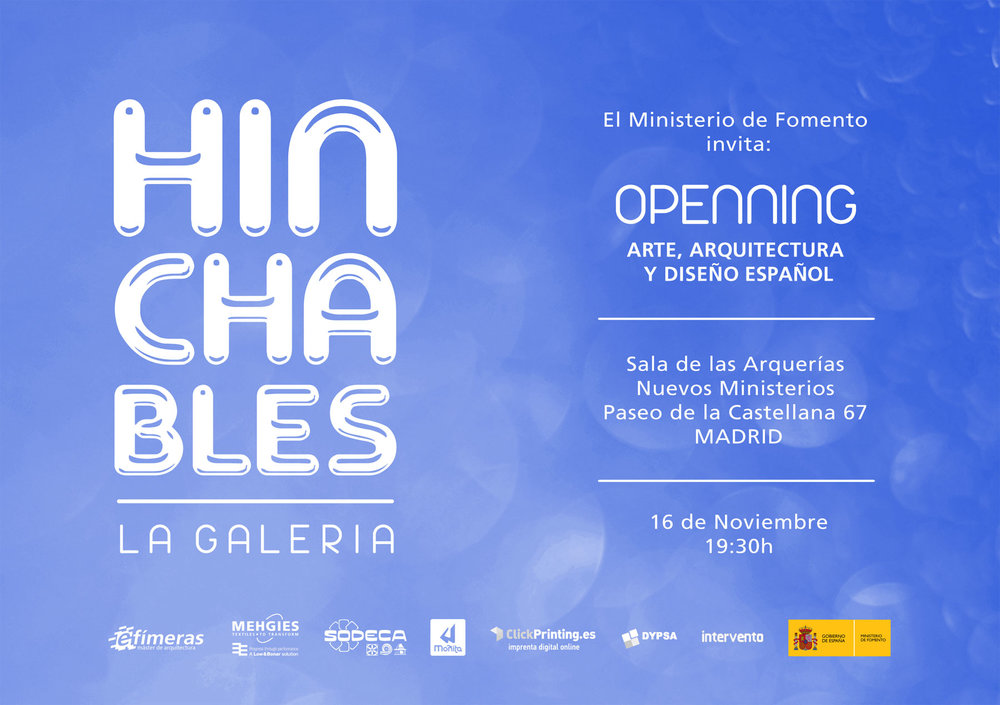 Carmelo Rodríguez Cedillo from ENORME Studio has been part of the curatorial team with Carmen Blasco, director of the Master of Ephemera at the UPM, Ángela Gayol, in charge of production and catalog, ESPACIO LANUBE, design and construction of the exhibition system and Luis de LaMadrid, director of the audiovisuals.
PARTICIPANTS:
Albert Gusí / Andrés Jaque / Ángel Borrego + Natalie Jeremijenko / Antonio Cobo / BASURAMA / Carolina González Vives / César García Villafaina / CONJUNTOS EMPÁTICOS / David Jiménez Iniesta + MªÁngeles Peñalver + Javier Jiménez Iniesta + Oriol Bordes / Daniel Villalonga / DOSIS / EFÍMERAS MÁSTER / ENORME STUDIO / Enric Ruiz Geli CLOUD9 / ESPACIO LA NUBE / Inés Santamaría / Jacobo García-Germán / Judas Arrieta / LAB-LOB / LUZ INTERRUPTUS / MAGICARCH / MAIO / Marta Múñoz + Pedro Feduchi / Martín Ruiz de Azúa / Miguel Ángel Benjumea + Román Corbato / MJ Martínez / MYRA ARQUITECTOS / Nerea Calvillo C+ARQUITECTOS / Olga Diego / PENIQUE PRODUCTIONS / Pilar Echezarreta / PKMN / La Plasita / Rodrigo García + Maciej Siuda / Rosana Sánchez Rufete / TAKK / TALLER DE CASQUERÍA / Tatiana Poggi / Toti Toronell + Quim Domènech / TXP TODO X LA PRAXIS / VIC / ZIGZAG + Marco Vitorio + JARD